---
MyBB Hide Mod 1.4.0 for 1.8.x | Advanced Hide Mod Download Extension - Download - 01-11-2021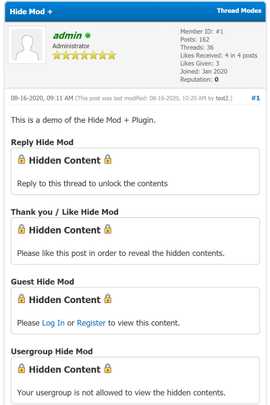 This is a rewrite of the previously known advanced stealth mode. This plugin comes with 10 standard Hide MyCodes. What makes this plugin so special is that it is very easy to extend. This means that we will continue to update this plugin and add more Hide MyCodes whenever there are inspiring ideas.
Features
Customizable user group permissions by custom MyCode deletion. Who can use it on articles?
Customizable admin user group to hide private MyCode. MyCode administrators will always find that content is unlocked without having to unlock it. Useful for moderators and mods to moderate forums.
Customizable templates. Fully customize the appearance of each Hide MyCode when locked or unlocked, with the added bonus of many variables that can be used in real templates like Hide Mods for minimal posts like $ minPosts for minimal posts.
The administrator can manage all MyCodes in the admin panel, for example, change templates, hide or deactivate certain MyCodes if not necessary.
Fully compatible with the Eldenroot Thanks / Like system
Fully compatible with the Whiteneo Thankyou MyBB system
Fully compatible with the NewPoints system.
It allows posters to ask readers for a minimum amount of NewPoints or pay a sum of NewPoints to unlock content. The author of the post will receive a configurable commission percentage, and certain user groups may have a configurable discount on certain forums.

Download Advanced Hide Mod 
Hidden Content Wrote:You must reply in order to see the hidden content!
---
RE: MyBB Hide Mod 1.4.0 for 1.8.x | Advanced Hide Mod Download Extension - fenix - 04-28-2021

thanks for sharing


---